Botswana scraps gay sex laws in big victory for LGBTQ rights in Africa
By Kara Fox, CNN
Updated 0957 GMT (1757 HKT) June 11, 2019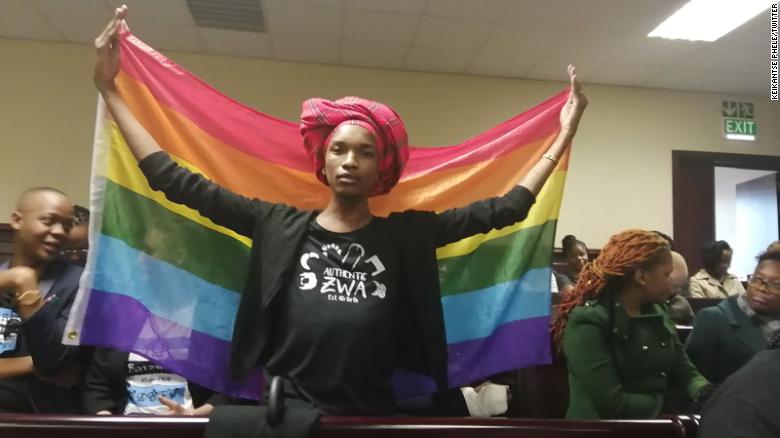 Activist Kat Koles Kolenyane holds a LGBTQ pride flag inside Botswana's High Court on Wednesday, where lawmakers overturned a law that criminalized same-sex relations.

(CNN)Botswana's High Court has overturned a colonial-era law criminalizing consensual same-sex relations in a landmark victory for Africa's LGBTQ movements.

The ruling comes just a month after

Kenya's high court upheld its laws criminalizing homosexuality

.

Under section 164 of Botswana's Penal Code, "carnal knowledge of any person against the order of nature," was an offense that carried a maximum sentence of seven years imprisonment. Section 167 made "acts of gross indecency" -- whether in public or private -- a punishable offense, with up to two years in prison.

The case was brought to court in March by Letsweletse Motshidiemang, a 21-year-old student at the University of Botswana, who argued that society had changed and that homosexuality was more widely accepted,

local media

reported.

While homophobic attitudes continue to prevail in parts of the country, Botswana's LGBTQ activists and supporters have marked some victories for the movement in recent years. The 2010 Employment Act made it illegal for employers to terminate contracts on the basis of sexual orientation, and

two landmark rulings in October and December 2017

laid the foundation for trans people to more easily change their official gender on identity documents.
https://edition.cnn.com/2019/06/11/africa/botswana-lgbtq-ruling-intl/index.html?adkey=bn