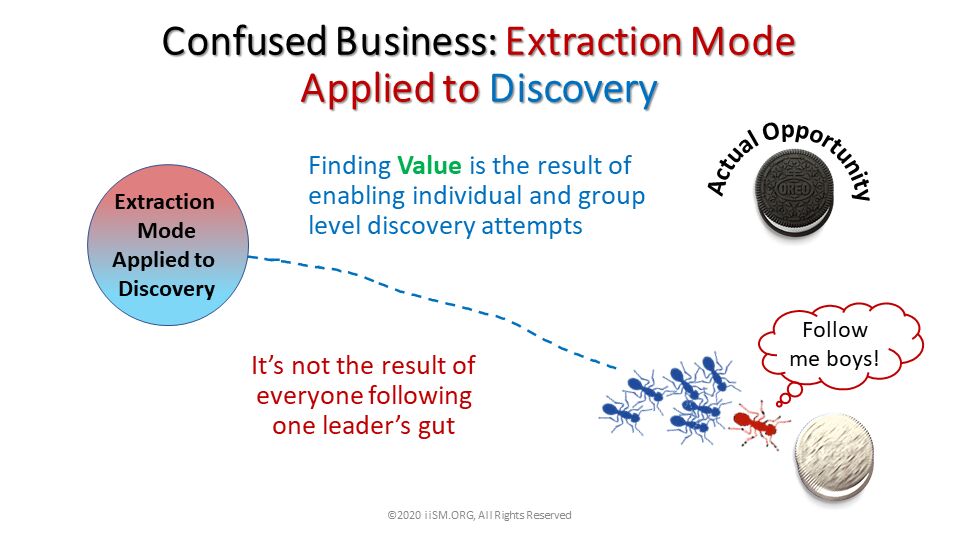 Most companies mistakenly apply value replication principles to discovery

iism.org
Snippet:
Picture this: your team is under immense pressure to crank out a new software project. The daily stand-up is mostly about reporting that the code will be checked in by sprint end. The team's nights, weekends and family time are sacrificed to get this super important project to Done™. The new code is delivered by the Date™, it's unstable but nobody knows that because the testing is mostly happy path anyway, don't get me wrong, people do test it and they do find bugs - I mean, they don't find things like low frequency of occurrence crashes, slow-but-important memory leaks, race conditions and poor performance under load - but they do find enough bugs that everyone is lulled into a false sense of safety. The project completes and success is declared! Then nothing happens. For months. No news of customers. No field bug reports. Complete radio silence. You forget all about the project, and you never hear of it again.
What just happened is a new software product/feature was created that no customer wanted. This happens way too often. In fact, most
hyper important software projects that must be done by date certain or else
, have deep flaws that cause some variation of this phenomenon, flaws that include:
Not wanted - Company specified a solution to a problem that customers don't actually have
No Rarity - Company is pursuing an iKnockoff of existing products. The market already has two scaled competitors with working solutions, customers naturally spend budget on products that are already successful to avoid risk
Incorrect Packaging - Customers need a website, but the company created an iOS app instead
Incorrect Pricing - Customers need SaaS pricing, but the company created a shrink wrapped, on-premise solution with CapEx and maintenance agreements instead
Agile teams that truly iterate with the customer can often avoid these problems because the customer is there the whole way through and the team continuously pivots to close gaps discovered by the customer throughout the project, thereby building something the customer actually needs and wants.