Joined

Jul 18, 2008
Messages

54,006
I've just purchased the Mele F10 pro remote for my DroidTV MX. The control that comes with the DroidTV unit is sufficient for basic operation, but power users will find it frustrating to use. I picked the Mele F10 Pro because of the accelerometer for mouse operation ('Air Mouse')as well as the full keyboard. This review is about the unit in general as well as what does and doesn't work. I've tested it on the DroidTV MX thus far but plan to test it on Windows next. I'll append that review to the end.
View of front and back: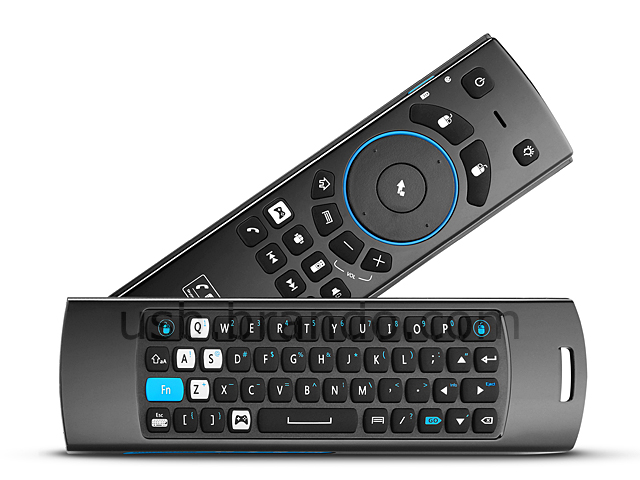 Functions:

Green: I've tested and are working with DroidTV MX
Yellow: I've not yet tested
Red: I've tested but can't get these working with DroidTV MX
1. Left mouse
2. Right mouse
3. Cursor buttons (up/down/left/right)
4. Function
5. Home
6. Menu
7. Volume +/-
8. Game mode
9. Pointer (mouse) mode
10. Button mode (disables mouse)
11. Switch sound mode (headset / TV)
12. Start call (Skype / Hangouts / etc)
13. End call
14. Power (works via IR)
15. Assistant
16. USB charge
17. Headset port
Now bear in mind that this was designed to compliment the Mele range of android TV boxes and so some features may not work as intended on your Android box. It's compatible with any Windows, Mac, Linux and Android box to some degree.
The F10 pro uses WiFi so signal is good. I use it in the same room as the F10 pro and through a couple of walls in a nearby room (I have a TV in that room connected via 15m HDMI to the DroidTV).
What works:

The pointer is fantastic. It's a big plus on the DroidTV box for me - click and swipe emulates a finger swipe on Android pretty much flawlessly. Left click (1) is equivalent to a finger tap, right click (2) is equivalent to the Android back button. You can set the sensitivity under android settings.
Pressing any of the cursor buttons (3) switches off the pointer and puts it in to button mode - just use the cursor buttons to navigate form fields / apps / screens /etc.
The home button (5) takes you to the top of the page. I'd prefer it to emulate the android home button and take you to the 'desktop' but it doesn't do that - use the back button to go back to the 'desktop'.
The menu button (6) works as expected and brings up context sensitive android menus as would the menu button on any android phone/tab.
The volume +/- buttons (7) work well to raise and lower volume on the DroidTV box (Android master volume)
Gaming mode (8) allows you to turn the unit sideways and use the accelerometer functions as you would a Wiimote when playing games that way (think Mario Kart type games). Tilt left / right etc. Flip it over to the keyboard side to use various buttons for fire / jump etc.
Mouse mode (9) switches back to pointer mode. Pressing left mouse (1) does the same.
Button mode (10) simply switches off the pointer (as does swinging the control in the opposite direction - I tend to do this - much quicker)
The keyboard is good, easy to press keys and good response. Repeat is fairly quick so don't hold the buttons in too long. If you're further away (e.g. when using it from another room) occasionally the odd key goes awol when typing so keep an eye on the screen. I'd like to figure out a way to up the pause before repeat - that will allow me to type a bit slower (hold in the key longer) to guarantee a response when I'm further from the unit. There may be an android setting for that somewhere but I haven't found it yet. If you like, select physical keyboard in the input options under android settings to prevent the android keyboard from showing up whenever you're in a keyboard entry field.
Pressing Fn (4) toggles between function mode and normal mode. In function mode, the blue items on the keyboard apply, in normal mode it's the white items. I like the fact that it's a toggle switch so that you don't have to use two fingers (one to hold Fn, one to press the key you want) - you just press Fn and then the key(s) you want and press it again to toggle back.
What does not work:

The sound toggle button (11) does not work (I haven't figured out if there's a way around this yet) on the DroidTV. What it's supposed to do (and does on the Mele TV box apparently) is switch between the HDMI or component sound (output from your TV) to the USB sound device (transmitted wirelessly to the control from the Mele's USB dongle).
When you first connect the Mele F10 Pro dongle to your machine, it hijacks the sound and all sounds come from the control. In addition, movies don't play properly - they stutter terribly. I tested hangouts and couldn't get it working with the unit. You also can't adjust sound volume when the Mele dongle handles sound.
To fix this, I installed
SoundAbout
and changed the default sound card from the USB dongle back to the HDMI sound card and enabled the soundabout service. You have to reboot after making that change. After that, sound continues to work from the TV. ***EDIT*** There is an updated set of instructions including a permanent fix here:
http://mybroadband.co.za/vb/showthr...-TV-thread?p=13722624&viewfull=1#post13722624
The power button (14) appears to send an infra-red command but it doesn't work with the DroidMX. As a result, I've installed
Rebooter
to reboot or shut down the unit quickly when necessary.
I'll continue this review and add content as it becomes available as well as test it on Windows. I haven't tested gaming much but i'll do that as soon as possible and report back. All indications are that it's good for gaming (tilt left = left, tilt right = right, tilt forward = up, tilt backward = down - keyboard is active in gaming mode).
Overall I'm very happy with the unit. The battery lasts very long and is rechargeable. Wireless range is great. This is the first really decent remote I've used for media PC / presentation / android box - the accelerometer based pointer is particularly good and the full keyboard is very useful.
Last edited by a moderator: