Joined

Jun 29, 2009
Messages

1,022
Yeah, that crazy blf dude that has fallen off the face of the planet... every time he opened his mouth he randomly generated a verbal deep fried meme.
Speaking of which... that genocidal maniac is pretty much calling for the xenophobic violence to be redirected at a certain race group.
In correspondence with The Citizen on Tuesday, leader of Black First Land First (BLF) Andile Mngxitama, commenting on ongoing attacks on foreigners in South Africa, said: "One day we [will] turn it against whites. Just you watch."

He was asked to clarify this comment, which overlapped with another controversial statement on Twitter on Tuesday night by EFF leader Julius Malema, who

called on black South Africans to redirect their anger at "white monopoly capital".

Mngxitama – who is currently

dealing with a hate speech case brought against him by AfriForum

for his public declaration last year that five white people should be killed for every black person should a taxi war ever break out – said that he was not calling for "the apocalypse to befall the white community", but was warning that it's apparently on the cards.

"The current apocalyptic scenes of charred buildings and carcasses of motorcycles eaten by fire is a mere dress rehearsal of an eventuality awaiting white South Africa," he told The Citizen.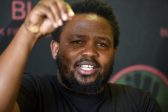 The BLF leader believes the black majority will ultimately come to blame the white minority for why they exist in a state of poverty, and then 'the implosion will happen'.

citizen.co.za
Not sure if this has been posted elsewhere, and it's late night here (plus, I'm battling a stomach bug), so, too lazy to look.